Por Oscar Vertiz
Internet suele ser cruel, injusto y culero. Todo junto o por separado. Una muestra de ello es la sexta nominación de Leonardo DiCaprio al Oscar. En esta ocasión, en la categoría a mejor actor protagonista por la película El Renacido.
La ignominia ha trascendido los límites del humor, desembocando en un montón de memes, GIF's y videos de parodia. El tren del mame, incluso llegó a Monterrey, donde un grupo de chicas, fans del actor, crearon un evento titulado: Si Leo gana, todos a la Macro y hasta ahora tiene más de 16 mil asistentes confirmados.
Viajemos en la supercarretera de la información y veamos algunos datos. De acuerdo con el recuento de IMDb, la enciclopedia online de cine por excelencia, la primera nominación de DiCaprio fue como mejor actor de reparto por la película ¿Quién ama a Gilbert Grape? en 1994. No ganó. Después, en los años 2005, 2007 y 2014, estuvo en la categoría de mejor actor protagonista por El aviador, Diamante de sangre y El lobo de Wall Street, respectivamente. En este último filme también recibió la nominación en la categoría de mejor película, como coproductor junto a Martin Scorsese, et al. Ninguna ganó.
DiCaprio no es un caso único. A los actores Paul Newman y Geraldine Page los nominaron siete veces antes de obtener el Oscar. Richard Burton fue candidato también siete veces sólo que nunca lo consiguió. Rachel Adams lleva cinco sin ganar. Kate Winsley se lo llevó hasta la sexta. Entre los directores, Alfred Hitchcock, vio pasar cinco nominaciones y sólo obtuvo un Oscar honorífico y Martin Scorsese lo ganó luego de seis veces de ser nominado.
Pero basta con la historia del cine, porque a pesar de estos datos, el único de ellos que se ha convertido en blanco principal de los memes en temporada de Óscares es Leonardo DiCaprio.
Ese es el meollo del asunto: los memes. La página web Know Your Meme, una base de datos históricos de este fenómeno de Internet, refiere que los memes que representan la mala fortuna del actor se remontan a 2011, cuando llevaba tres nominaciones. Aunado a que la revista E! Online publicó un artículo titulado Do Oscars voters really hate Leonardo DiCaprio? el tema se hizo cada vez más notable.
Además, en el mismo año, en el sitio Funny or Die, parodiaron el trailer de la cinta J. Edgar protagonizada por DiCaprio, presentándolo como la lucha del actor por conseguir el premio. Y en 2012, se hizo muy popular un GIF que mostraba un DiCaprio de mirada triste, aplaudiendo y sin recibir el Globo de Oro por el que fue nominado.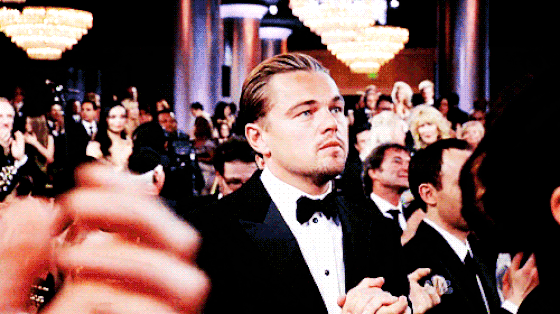 Sin embargo, no fue sino hasta El lobo de Wall Street que los memes se dispararon. Esa vez, Buzzfeed publicó una entrada titulada A Heartbreaking Look to the Exact Moment When Leonardo DiCaprio Didn't Win an Oscar Again. La publicación, que tiene más de cinco millones de visitas, muestra el abrazo entre Leonardo y el actor ganador de ese año.
En conclusión, no le den el Oscar a Leonardo DiCaprio, no hay pedo. No lo necesita para seguir haciendo buenas movies y, así, nosotros, el público, esperaremos con ansia y disfrutaremos la saga de memes de DiCaprio.
Lo que sí sería culero es que Leonardo nunca gane la mentada estatuilla y que cuando hagan la película de su "desafortunada" vida, el actor que lo personifique se lo lleve en su primera nominación.
GIF's tomados de Internet. 
Oscar Vertiz es protesista dental de profesión, hace colmillos de vampiro para ganarse la vida, es entusiasta de las redes sociales y cinéfilo. Síguelo en Twitter @oscarvertiz
Comments
comments